Workshops for Everyone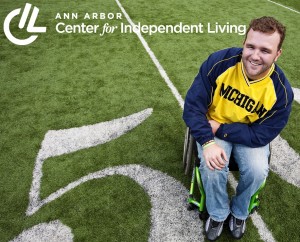 Often I get asked about how difficult the workshops we hold are, to this I always answer:
"Fun for the whole family!'
No matter your ability level we welcome everyone to our Rain Barrel Workshops, we make sure to be able to accommodate kids and seniors as well as all ability and skill levels.
Soon, we will be taking this ideal to the next level, making rain barrels accessible for all ability levels including people with disabilities. The entire gardening community needs to embrace the idea that gardening should not only be for the "fit" or "active" types but accessible for all. This is a long uphill battle that has been going on for a while, after talking with Ava HaberkornHalm the Sports and Recreation Coordinator for the Ann Arbor Center for Independent Living my eyes were opened to a entire way of thinking that I must admit I was not used to.
Learn more about the A2 CIL at http://www.annarborcil.org/
By strategically placing garden beds with concrete walkways between them and at a certain height to allow for wheelchair access. As well as multiple water sources conveniently located and now, Rain Barrels! the CIL's community garden (which is absolutely free) is a wonderful place that provides enjoyment for many. By donating and educating about rain water harvesting and using our rain barrels we hope to positively affect the lives of those who attend and help the community garden, by making the rain barrels accessible (at a certain height) all who frequent the gardens will be able to use the rain barrels.
Later this month, we will install and conduct a Rain Barrel workshop at the CIL and hope that people from all neighboring communities, all ability levels will join us and learn about the benefits of rain barrels and their many uses. You can sign up in advance, or just show up. The event is free to the public and you can by your barrels in advance for $50 on this website and donate an additional $5 to the CIL. They also have a bus stop in front the building to make it easier for those without a vehicle to get to the CIL
Sign up for this workshop (and all of our workshops) at http://mirainbarrel.com/signup (or just click "Sign Up" at the top or your screen)
Hope to see you there!