Compost Tumbler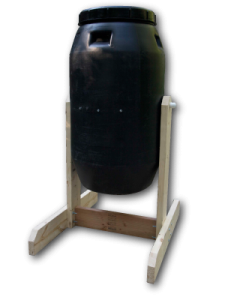 Our compost tumbler utilizes heat, air, and water. It is a diy kit that comes complete with the wood pre-cut and drilled. Get started composting right away! Undersink kitchen compost containers (with carbon filter) are available. Upgrade your tumbler with our Compost Tea Kit, simple instructions and enough nutrients to last all season are included. The benefits of Composting are numerous and with our Compost Tumbler it has never been easier!
Compost Tumbler Kit
Previously used 58 gal. food-grade drum
Black plastic assists compost decomposition by using the suns energy
Durable wood frame.
Rake system inside helps separate compost.
Low impact on your back.
Easy on-and-off twist top lid
Includes everything you need except tools for setup
Visit our store to purchase and for more details on our composter!
If you still have more questions about composting please feel free to Tweet or Email us to start the conversation. We are here to help!