Store
Our Rain Barrel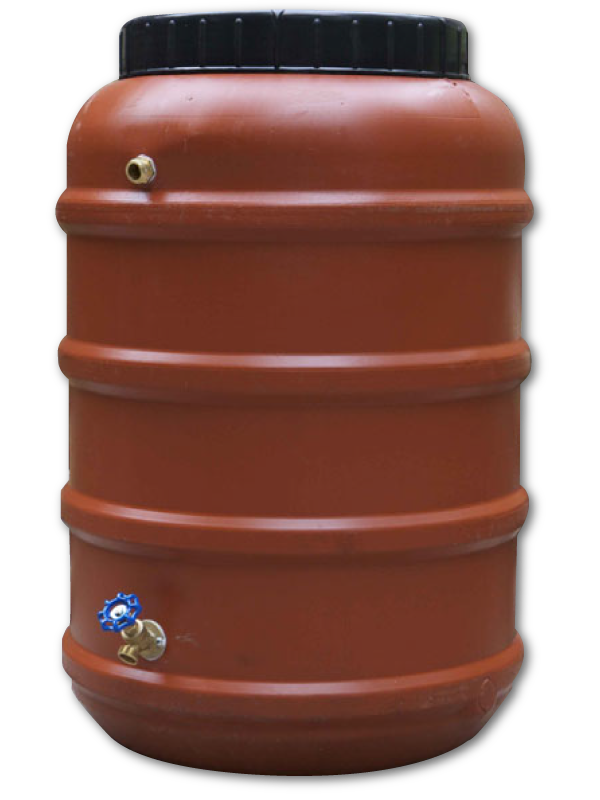 Plastic mesh screen
Overflow valve
Easy on-and-off twist top lid
Brass Spigot (installed)
Downspout adapter
Sealed with waterproof caulk.There are many uses and reasons to install a rain barrel. They help save you money and prevent stormwater runoff.
Upgrade your rain barrel with our Catch-A-Raindrop Diverter and 100% Upcycled (Reclaimed) Wood Rain Barrel Stands!Check out our Rain Barrel Page to learn more…
---

Rain Saucers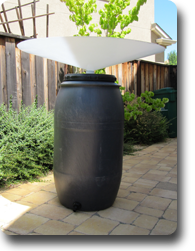 What is a Rain Saucer?
If you are looking to add rain barrel to your garden but don't have an easily accessible downspout, Rain Saucers are your best option. They are made from food-grade Plastic that is also UV resistant. They measure 48″ diameter and have a NPS 2″ fitting. Taking only 10 minutes to setup, these can be fitted to almost any style rain catchment system.
Sustainable Gardening
Aquaponics
Urban Farming
Disaster Preparedness
Gutter Alternative
Livestock Watering
1 year limited warranty
---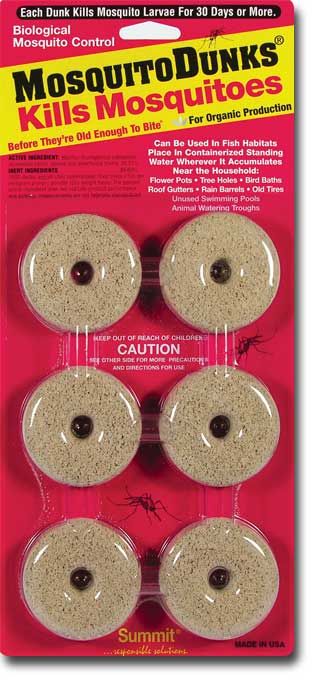 Mosquito Dunks
Make sure those pesky insects aren't breeding in your barrel, pick up a 6-pack of Mosquito Dunks.
What are Dunks?
Organic larvaecide that is safe for wildlife, pets, and even children happen to splash in it. It stop current larvae from developing and sterilizes the adults to prevent them from laying more eggs. One dunk is enough to handle 100 square feet of standing water so a single rain barrel only needs a half or quarter dunk.
Read our Frequently Asked Question for more tips on Mosquito Prevention.
---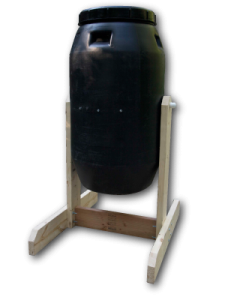 Compost Tumbler Kit
Previously used 58 gal. food-grade drum
Black plastic assists compost decomposition by using the suns energy
Durable wood frame.
Rake system inside helps separate compost.
Low impact on your back.
Easy on-and-off twist top lid
Includes everything you need except tools for setup
---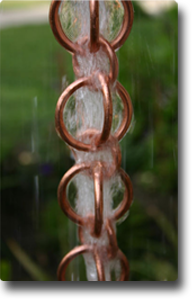 Rain Chains
Rain chains are the perfect and beutiful way to get water to your rain    barrel where you don't have gutters.
Made from 100% Copper these rain water harvesting accessories are a must have for the chic gardeners.
---
EarthMinded DIY Rain Barrel Kit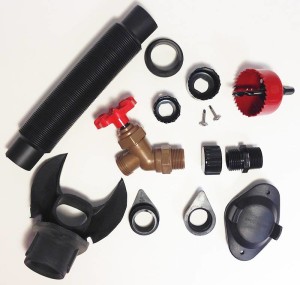 Works with recycled plastic drums and waste barrels (barrel not included)
Patented Flexifit™ helps prevent overflows
Diverter is easy to install and winterize
No special tools needed – hole saw included
Sealed system resists mosquitoes, pests, and algae growth
Spigot and drain with standard garden hose connection
Illustrated step-by-step instructions
Parts included to link 2 barrels together
---
Catch-A-Raindrop Rain Water Diverter
Fits most standard residential downspouts
Small, discrete, and worry-free
Affordable way to conserve water
Plants love the pH neutral, fluoride- and chlorine-free water
Diverts water away from your home's foundation
Attach to regular garden hose or use cap2x3 size is standard, if you have 3×4 gutters please select the option below.
---
"Y" Rain Water Diverter
Most rain barrels come with an overflow hose but you may want to prevent the water from entering the rain barrel during times of heavy rain or winter months.This "Y" diverter is made from aluminum downspout material and looks like an upside down "Y". It is available in two sizes to fit 2×3 or 3×4 downspouts.There is a lever on the front of the diverter that moves a diverter plate inside so the rain water can be diverted down one side or the other.
2×3 size is standard, if you have 3×4 gutters please select the option below.
---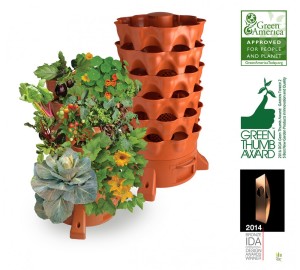 Garden Tower 2.0
It's a Garden,it's a composter – It's the Garden Tower! The unique self-contained vertical garden allows anyone to turn their waste kitchen scraps into an abundant organic veggie harvest.
What's improved on the current Garden Tower 2 (v2.0)? 
Released in February 2015, the Garden Tower 2 features several design improvements that were not feasible on earlier versions! (See the Garden Tower v1.1 here)
1) Enhanced nutrient distribution: The vermicompost tube at the core of every Garden Tower features 265% more perforations for greater access by plant roots and enhanced vermicompost aeration
2) Stacking & nesting planting rings (and compost tube sections): Customizable tower height, reduced shipping size, greater mobility, and less soil compaction
3) It rotates! 360 degree rotation made possible by a robust integrated bearing track = optimized sun exposure and better plant access in tight spaces
4) Removable compost tea drawer and compost screen: A major ease-of-use upgrade for better access, controlled compost release, and less bending over
5) 100% Recyclable, Food-contact grade plastic: No plasticizers, no BPA, no PVC, no phthalates. Only food-grade dye, antioxidant for long-term UV protection, and high quality USA made HDPE and polypropylene plastics
6) Wide, heavily reinforced, anchorable feet: Attach the tower securely to a rooftop, etc.; these feet are heavy and tough and contain nearly a pound of plastic a piece!
7) Even heavier built and more UV resistant: The Garden Tower 2 is a full five pounds heavier than the robust Garden Tower 1.1 and features the maximum amount of food-grade UV protection available in the industry for an expected minimum 7 year lifespan even in harsh climates.
You are purchasing our very high quality and longlasting Garden Tower 2 featuring a terracotta food-grade high-impact HDPE body with food-grade UV-inhibited colorant.  The Garden Tower 2 is 100% made in the USA.
This standard 50-plant model stands 44″ tall, is 26″ wide and holds 6+ cubic feet of potting soil!
The over-built Garden Tower 2 has a materials design life of 7-12 years (outdoor exposure) and is fully backed by a 3 year warranty against defects in materials and workmanship from the date of purchase.  Additionally, Garden Tower Project covers replacement part shipping costs (USA) for the term of the warranty.